Digital system in the 8 wire system:
---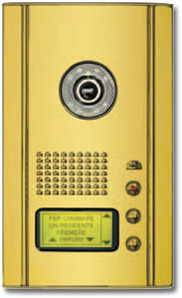 By putting together a BTicino video door entry system with several SFERA entrance panels, the video handsets installed can display the images from the various entrance panels.
Simplified cabling
All the systems can be cabled independently with only 6 wires, for the audio systems and 8 wires for the video systems, regardless of:
- the number of users (handsets);
- the system size;
- the functions supplied.
NO COAXIAL CABLE FOR THE VIDEO SIGNAL
The video signal is distributed via twisted cable.
For easier installation work and to avoid using inadequate cables the catalogue has a specifi c 8- conductor cable for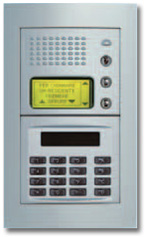 the making of audio and video systems with the digital system.
POINT-TO-POINT CONNECTIONS
The connections are identical on all the devices.
The wire-number coupling on the terminal is the same for the whole system; this makes connections easier and reduces the possibility of error.
Digital system
---
Monobloc SFERA Modular SFERA
COMBINATION WITH THE BURGLAR ALARM APPLICATION
The video door entry systems made with the Digital system can be combined with the burglar-alarm system. The system cameras can be activated when an intrusion alarm has been given: the video handset displays the pictures of the room where there has been an intrusion.