■ IDROBOX LUNA General features

The IDROBOX range gets significantly larger with 18 new housings with IP40 and IP55 ratings for protecting the LUNA devices in ambiences exposed to atmospheric agents like wind, humidity, dust, bad weather.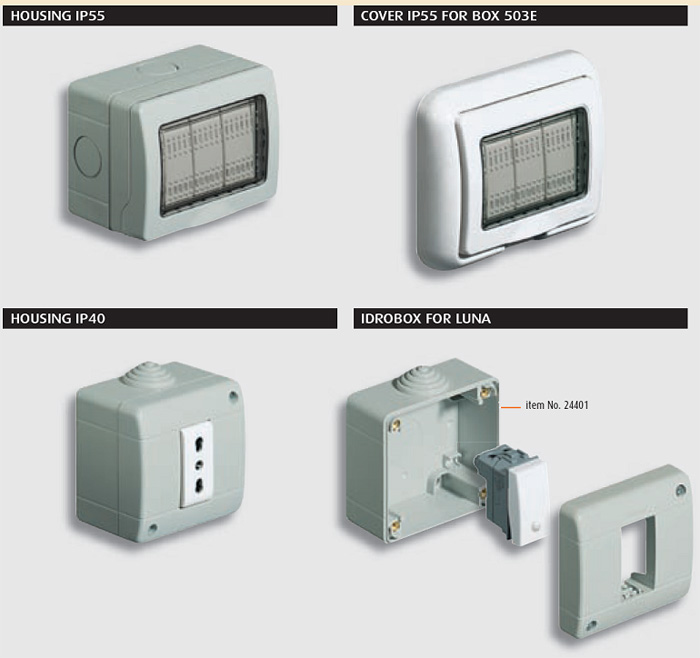 ■ Housings IP40
These housings are made of a base and a cover in which the devices (eventually even pre-wired) are snapped from the rear.
This products series is suitable for use in difficult places as far as environmental conditions are concerned, like shelters, storehouses, cellars etc. Thanks to their excellent resistance to high temperatures and fire, these housings are suitable for realizing electrical systems in places with greater risks in case of fire, as requested by the standard CEI 64-8 part 7.
They can consequently be used in buildings realized with combustible materials (even made of wood) or in rooms with easily flammable materials (thermal power stations, timber yards).
■ Housings IP55
These housings are equipped with a latch front door provided with an elastic sheeting.
The protection degree IP55 is assured by a watertight washer and by a special latch system.
These items are particularly suitable for being used in special environments: humid, wet, exposed to bad weather or to water jets (for instance, car wash).
They can be used for realizing electrical systems in places with explosion danger of class 3 (AD-FT systems in accordance to standard CEI 64-2), because both the base and the front door are realized with self-extinguishing resin with high resistance properties against high temperatures and fire.
■ Characteristics of housings IP40 and IP55
- Material for housings IP40: ABS (base + cover).
- Material for housings IP55: ABS (base), polycarbonate (cover frame) and PVC (elastic sheeting).