2.1- Ladders are divided into two categories: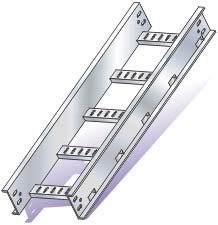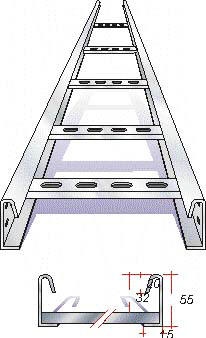 A - Classic:
* Material thickness 1.5mm.
* Rung type U welded type
* Rung spacing 300mm centre
* Standard length 2.44 Mtr OR 3 Mtr.
* Standard finishes
1. Hot dip galvanized after fabrication to BS 729.
2. Epoxy Coating
3. PVC coating
4. Stainless steel
B- ESTEEM
Where the height of the return flange, the thickness and the design of accessories are different from the classic 1 range.
---
2.2- Rungs
a. Types of rungs:

1. Revited Type (RV)
Which is used only for 55mm and
75mm height cable ladder


2. Tabular Type (TB)
Which is used only for 75mm
and 100mm height


3. U welded Type
Used with standard height of 55mm
upto 180mm available with
3 different types.

A. (UW1) Standard downward rung


B. (UW2) Standard upward rung


C. (UW3) Standard top rung






4. Channel Welded Type:

Used with standard heights starting from 55mm up to 180mm, available with two sizes 41 x 21mm and 41 x 25mm rungs & thickness 2.5mm.






A. Standard down ward
C rung (CW1)



B. Standard down ward
C rung (CW2)



C. Standard upward
C rung (CW3)



D. Standard upward
C rung (CW4)
b- Perforation of the rungs
1. Horizontal slots - Standard perforation



2. Vertical slots perforation available as per customer request

---
2.3- Accessories:
All accessories are made with a standard radius of 300mm. However, we can supply alternatively radius of 600 and 900mm. Horizontal bends and Vertical risers are also available in other than 90deg as a standard item.
Rungs other than 300mm centre are also supplied upon request.
1-

Horizontal Bend 90deg

2- Equal Tee

3- Horizontal Cross

4- Vertical inside Riser

5- Vertical outside riser

6- Reducer